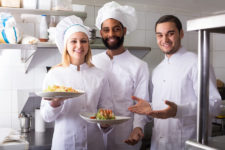 Q: Who is required to have a Food Handler Training Card in Texas?
Texas requires food handler training for all individuals working in Texas food service establishments – (i.e., restaurants, cafes, bakeries, delis, mobile vendors, food trucks, bars, kiosks, convenience stores, and other food service employees).
As of September 1, 2016 and as part of the Texas Food Establishment Rules (TFER), all food handler service individuals working in Texas facilities who are involved in preparing, storing, or handling food must now successfully complete an accredited food handler training course. Employees have have 60 days from date of hire to get their certificate.
Examples of Texas food service employees required to obtain a Food Handler Certificate include: chefs, cooks, mobile food vendors, bartenders, host/hostesses that handle food, caterers, supervisors and food managers.
Texas Food Handler Training & Manager Certification
• Learn about cross contamination, cold and hot food safety, best practices for personal hygiene, and foodborne illnesses.
• Food Manager ANSI Certification - On SALE $94.99 - New online Texas CFM Certification Exam - Valid throughout Texas and for 5 years.
• Food Handler ANSI Training for only $7.00 - Texas Health Department approved and valid statewide!
Q: When did the newest Texas Food Safety Rule take effect?
On October 11, 2015 the new Texas Food Establishment Rules (TFER) went into effect. Some of the new significant changes in the TFER include:
A new statewide mandate that all food employees successfully complete a food handler training course within 60 days of employment. This food handler requirement began on Sept. 1, 2016.
Added requirements for the "original" certified food protection manager certificate being posted conspicuous to the customer's location.
Added requirement for food handler certificates to be located on site.
Q: What type of food handler training is valid in Texas?
Food handler training that is accredited by the American National Standards Institute (ANSI) and/or the Texas Department of State Health Services the certificate is valid anywhere in the state of Texas. Courses that are also accredited by the American National Standards Institute (ANSI), like First Principles for Food Handlers, are not subject to any additional fees required by local jurisdictions.
Q: How is the training offered?
Food handler training can be online, computer, classroom, live trainers, remote trainers, and by certified food service sanitation managers. Regardless of your preferred training method, all candidates who pass the program will receive the same food handler training card.
Online Texas food handler training is  the best choice because of convenience and being self-paced. Many workers are so busy or live in areas where classroom sessions are not practical.
The self-paced nature of online allows each student to spend more time on the topics they are not familiar with and move more quickly through those that they are. In a classroom, everyone marches through the same topics for the same amount of time. Furthermore, the online course is equivalent to an on-site classroom course.
Q: How long is the certificate (food handle card) valid?
The Texas food handler training certificates are valid for 2 years and those taking other types of training that work in restaurants and other facilities such as: nursing homes, licensed day care homes and facilities, hospitals, schools, and long-term care facilities are good for 3 years.
Those working in non-restaurants are not required to take another food handler training unless they go to work for another employer. Food handler cards for those working in non-restaurants is not transferable between employers.
We offer Food Safety Training in Texas for: Abilene, Amarillo, Arlington, Austin, Bastrop, Brownsville, Beaumont, Corpus Christi, Dallas, Denton, De Soto, El Paso, Fort Worth, Gainsville, Garland, Grand Prarie, Irving, Killeen, Houston, Laredo, McAllen, Mesquite, Midland, Mineral Wells, New Braunfels, North Richland Hills, Odessa, Pasadena, Pearland, Plano, Port Aransas, Richardson, Round Rock, San Antonio, San Marcos, Schertz, Tyler, Waco, Wichita Falls – Bell County, Bexar County, Comal County, Hays County, Harris County, San Patricio County, Tarrant County, Travis County, Witchita County, and Williamson County, and many more!