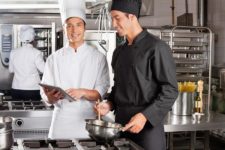 Texas requires that a person-in-charge (PIC), owner, or employee of a food service establishment – (i.e., bars, restaurants, mobile vendors, food trucks, caterers, assisted-living, and day care centers) be a Certified Food Manager (CFM) as outlined in the Texas Food Code by successfully passing an ANSI-accredited and Texas Department of State Health Service approved – food safety certification exam.
As per Texas Food Establishment (TFER) Rules §229.163:
(a) Responsibility, assignment. The permit holder shall be the person in charge or shall designate a person in charge and shall ensure that a person in charge is present at the food establishment during all hours of operation.
As per Texas Administrative Code – Title 25: Health Services – Chapter 229: Food and Drug – Subchapter K: Texas Food Establishments – Rule § 229.177b: Certification of Food Managers:
(b) Food manager certification required. One certified food manager must be employed by each food establishment permitted under HSC, §437.0055. Certification must be obtained by passing a department approved examination at an approved examination site, and meeting all requirements in HSC, Chapter 438, Subchapter G, and §229.176 of this title (relating to Certification of Food Managers).
Texas Food Handler Training & Manager Certification
• Learn about cross contamination, cold and hot food safety, best practices for personal hygiene, and foodborne illnesses.
• Food Manager ANSI Certification - On SALE $94.99 - New online Texas CFM Certification Exam - Valid throughout Texas and for 5 years.
• Food Handler ANSI Training for only $7.00 - Texas Health Department approved and valid statewide!
Examples of Texas food service employees required to obtain a Food Manager Certification include: chefs, cooks, mobile food vendors, caterers, supervisors and food managers.
Texas Food Establishments requiring training and certification:
Types of food establishments that the Texas Department of State Health Services (DSHS) regulates includes:
Restaurants
Bars
Bakeries
Delis (including those within grocery stores)
Cafés (including those within retail stores)
Food trucks, food carts and trailers
Caterers
Concession stands
Cafeterias (that are open to the public)
Convenience stores that serve food
Mobile food vendors
Temporary food booths and kiosks at events and festivals
Various other businesses and organizations that engage in food preparation
and food service
Texas Food Safety Laws, Regulations, and Guidelines
Texas Food Safety Code for Food Handlers and Certified Food Managers:
On October 11, 2015 the new Texas Food Establishment Rules (TFER) went into effect. Some of the new significant changes in the TFER include:
A new statewide mandate that all food employees successfully complete a food handler training course within 60 days of employment. This food handler requirement began on Sept. 1, 2016.
Added requirements for the "original" certified food protection manager certificate being posted conspicuous to the customer's location.
Added requirement for food handler certificates to be located on site.