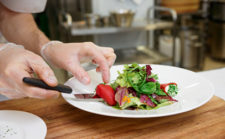 The consequences of unsafe food can be serious and ISO's food safety management standards help organizations identify and control food safety hazards. As many of today's food products repeatedly cross national boundaries, International Standards are needed to ensure the safety of the global food supply chain.
The ISO 22000 family contains a number of standards each focusing on different aspects of food safety management.
Texas Food Handler Training & Manager Certification
• Learn about cross contamination, cold and hot food safety, best practices for personal hygiene, and foodborne illnesses.
• Food Manager ANSI Certification - On SALE $94.99 - New online Texas CFM Certification Exam - Valid throughout Texas and for 5 years.
• Food Handler ANSI Training for only $7.00 - Texas Health Department approved and valid statewide!
Why is ISO 22000 unique?
Many standards have been developed within food safety: specific company standards, legal regulations, as well as standards developed by retailers.
Their proliferation made their application difficult. At the same time, food safety principles have spread across the world. The safety of foodstuffs has become a major issue for all players in the food supply chain.
ISO 22000 is a single food safety standard with worldwide reach, addressing all food safety principles. It has thus become necessary for all players in the food supply chain.
What is ISO 22000 Certification for food safety?
The ISO 22000 food safety standard is the first international standard for implementation of a certified food safety management system. It covers Interactive communication, System Management and Hazard control.
How Does ISO 22000 Benefit the World's General Population?
Each individual's quality of life will benefit from the rules and regulations of ISO 22000 by the provisions of the following:
Higher quality jobs in the food industry
Improved utilization of resources worldwide
Increased company profits
Potential increased economic growth
Insurance of safer food
Reduction in rates of foodborne disease
More efficient documentation of techniques, methods and procedures
Governments will also see great benefits, such as scientific and technological knowledge, which help the development of health, safety and environmental legislation. These benefits will also provide a way to educate and regulate food personnel.
Anyone involved in the food industry should be aware of the benefits that ISO 22000 has on the processing, storage, manufacturing and distribution of edible products. It provides companies with superior food safety and security, keeps profits from dropping and can be combined with other management system standards, such as ISO 9001:2000, for maximum effects on quality.
Knowing whether ISO 22000 is right for you and your organization is simple: It works for each company, regardless of size or location. Outlining best practices within your company will allow you to deliver results, convey confidence across the board and impress stakeholders and consumers.