Texas Certified Food Manager (CFM) - Online ANSI Exam
Texas requires each retail food establishment to have a person-in-charge, an owner, or manager of a food establishment be a Certified Food Manager (CFM) as outlined in the Texas Food Code by successfully passing an ANSI-accredited and Texas Department of State Health Service approved – food safety certification exam.
Texas Food Establishment Rules (TFER) – Chapter 228.33
(a) At least one employee that has supervisory and management responsibility and the authority to direct and control food preparation and service shall be a certified food protection manager who has shown proficiency of required information through passing a test that is part of an accredited program.
Texas CFM Online Exam
New Online Certified Food Manager Exam
A classroom certification exam is no longer required! The Exam is scheduled and taken entirely online – no need for 3rd Party Test Proctor. Take the course, pass the exam, print your certificate, and get your Texas Food Manager's Certification just like that! It is that easy!
When the student successfully passes the Exam with a 75%, an electronic CFM Certificate is issued and available for download and print.
Then, take a Photo ID, the printed CFM Certificate, and any additional fee to the local health department. The health department will issue a Food Manager Card and will catalog you as a recognized Food Protection Manager valid within the entire State of Texas. The Certified Food Manager (CFM) Certificate is valid for 5 years.
The new online Certification Exam and optional Food Manager Prep Course are fully approved by the Texas Department of State Health Services and is valid throughout the entire State of Texas. Texas Approved Certified Food Manager Exam Online Provider (Learn2Serve.com – 360Training.com).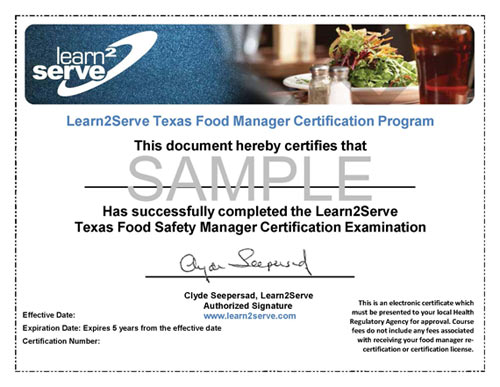 Accreditation References